RICHA ATLANTIC GTX TRS BLK LONG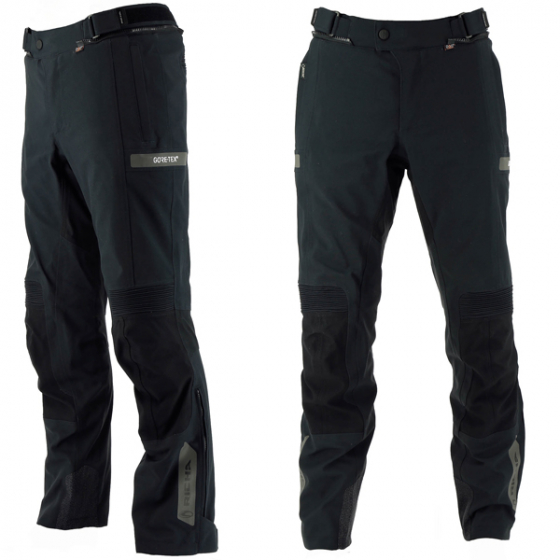 Additional Images
Features
Videos
Description
The pants' construction is made from a mixed combination of 2L and 3L
laminated outshell Gore-Tex® fabrics to ensure an extreme
waterproofness.
Impact protection fabrics, the extremely durable and abrasion resistant Armacor®, and D3O impact protectors on the
knees are the main weapons to maximize your safety. But that's not all: the use of gecko stretch 3L fabric create an optimal
fitting and 3M reflective zones ensures a maximum visibility at night.
A warm detachable thermo liner creates an optimal isolation for the
more extreme temperatures.
All RICHA 100% products are integrated with YKK zippers only. The pants has a 360° zip to connect the pants to any Richa
Gore-
...
Tex® jacket.
The Atlantic pants is available in three different leg lengths: standard,
long leng and short leg, to make sure every rider can choose his perfect
fit.Read Less
Read More
Product Variants
| SKU | Size | RRP |
| --- | --- | --- |
| 082/ATLANT/BK/L3 | M | £499.99 |
| 082/ATLANT/BK/L4 | L | £499.99 |
| 082/ATLANT/BK/L5 | XL | £499.99 |
| 082/ATLANT/BK/L6 | 2XL | £499.99 |
| 082/ATLANT/BK/L7 | 3XL | £499.99 |
| SKU | Size | RRP |
| --- | --- | --- |
| 082/ATLANT/BK/L3 | M | £499.99 |
| 082/ATLANT/BK/L4 | L | £499.99 |
| 082/ATLANT/BK/L5 | XL | £499.99 |
| 082/ATLANT/BK/L6 | 2XL | £499.99 |
| 082/ATLANT/BK/L7 | 3XL | £499.99 |
| | |
| --- | --- |
| SKU | 082/ATLANT/BK/L3 |
| Size | M |
| Price | - |
| RRP | 499.99 |
| In Stock | |
| | + Add |
| Qty In Order | |
| | |
| SKU | 082/ATLANT/BK/L4 |
| Size | L |
| Price | - |
| RRP | 499.99 |
| In Stock | |
| | + Add |
| Qty In Order | |
| | |
| SKU | 082/ATLANT/BK/L5 |
| Size | XL |
| Price | - |
| RRP | 499.99 |
| In Stock | |
| | + Add |
| Qty In Order | |
| | |
| SKU | 082/ATLANT/BK/L6 |
| Size | 2XL |
| Price | - |
| RRP | 499.99 |
| In Stock | |
| | + Add |
| Qty In Order | |
| | |
| SKU | 082/ATLANT/BK/L7 |
| Size | 3XL |
| Price | - |
| RRP | 499.99 |
| In Stock | |
| | + Add |
| Qty In Order | |
| | |