SHARK RACE R PRO GP ZARCO DSK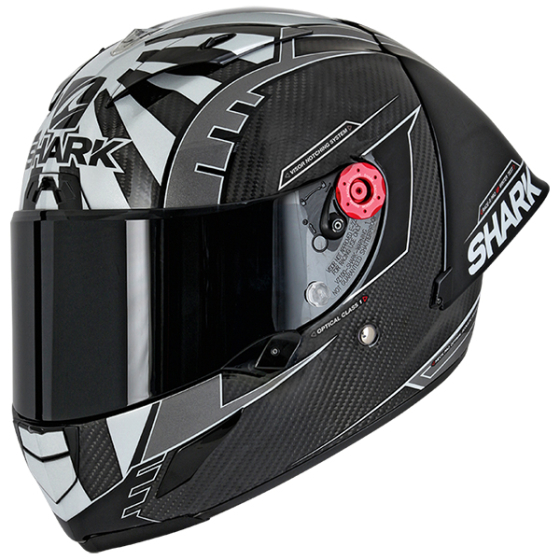 Additional Images
Videos
Description
The Race-R PRO GP is the latest version of the iconic Race-R PRO model, flagship of SHARK's Racing line, which has been an integral part of over 200 victories at world speed championships*.
Built for the track and worn by SHARK riders during MotoGP competitions, this high-end, widely recognizable version has been fitted with an aerodynamic spoiler designed specifically for racing.
The high-performance aerodynamic profile, achieved through close collaboration between SHARK's Research & Development teams and our MotoGP racers, is the successful result of state-of-the-art testing based on CDF (Computational Fluid Dynamics) simulations.
Objective: surface analysis and optimized f
...
luid flows along the helmet, yielding the highest level of aerodynamic efficiency at top speeds.

Available in 3 standard "Winter Test" Replica versions, the new Race-R PRO GP model combines unmatched extreme performance ratings with the most advanced safety features. Tested under arduous racing conditions and approved by our best riders, this helmet represents the perfect blend of a unique design, safety, uncompromising aerodynamics, technological innovations, highest-grade finishes and a premium packaging.

A technically-sophisticated aerodynamic profile



•

Aerodynamic spoiler:
The Race-R Pro GP has been equipped with a spoiler designed to optimize aerodynamic performance when traveling at very high speed**. This aerodynamically-refined profile has been enhanced by applying breakthrough technologies in the field of CFD (Computational Fluid Dynamics).
Developed in a wind tunnel through collaboration with our most demanding racers, this spoiler produces less aerodynamic drag, eliminates undesirable vibration effects and offers the rider greater stability along with a tweaked top speed.



•

Chin guard profile designed for racing:
This design serves to reduce the exposed surface area of the helmet in back of the fairing.
Objective: Lower the aerodynamic drag.


* In-house study conducted on the Grands Prix Moto GP, Moto 2, Moto 3 and WSBK, WSSP between 2012 and 2016.
** Extreme speed beyond the authorized legal limit: reserved for track trials.
Read Less
Read More
Specification
Comfort, stability and ergonomics
1. Two-tone, high-tech "Alveotech" lining fabric featuring the Sanitized® label
This Sanitized® treatment ensures antimicrobial efficiency to prevent the propagation of bacteria when perspiring. It guarantees a cool contact over long periods for extra comfort during a strenuous ride.
An ultra-safe helmet
1. A shell built with a COVA (Carbon On View & Aramid) structure.
This "next-generation" structure offers many unrivaled specifications:
•
Lightweight: reduces tension spreading to the cervical muscles
•
Resistance to both abrasion and compression
•
Effective at preventing delamination
•
Shock absorption.
2. Multi-density, EPS (Expanded Polystyrene) shell:
Optimal damping at each impact zone.
3. Chin guard fitted with a removable, variable airflow anti-pollution filter.
4. Dual-density, EPU (Expanded Polyurethane) chin guard:
Material designed above all to absorb shocks reverberating around the chin guard.
5. Ergonomic visor grip
For improved handling and easy opening.
6. High-strength visor comes with an Optical Class 1 rating and variable thickness
(ranging from 4.2 mm to 2.8 mm) without introducing any visual distortion
Treated to prevent scratches and fogging
System installed to enable quick visor disassembly.
7. "Quick Spoiler Safety System":
Allows ejecting the spoiler in the event of a fall to limit the effects of secondary shocks and thereby guarantee the rider's optimal safety.
COMPREHENSIVE PACKAGING
•
A special "Winter Test" box and helmet cover sporting an exclusive design
•
The "Winter Test 2018" Race-R PRO GP Replica
•
The official "SHARK Racing Division" bag used by our MotoGP racers
•
A "dark smoke" tinted, anti-scratch / anti-fog visor
•
Official sponsors' decals
2. Wrap-around and breathable neck protection
Specially designed for optimal acoustic insulation.
3. "Dual use", anti-fog breath guard with added functionalities: a fixed piece + a snap-on removable piece
Objectives:
•
Adapt to all types of weather conditions (cold, wind, etc.)
•
Block out background noise
•
Minimize turbulence.
4. New technology used to cut out "3D morpho" cheek contours
Providing maximum comfort and support.
5. Shape memory ear pads that serve to muffle noise due to acoustic vibrations.
Weight
1400G

Product Variants
| SKU | Size | RRP |
| --- | --- | --- |
| 200/HE8410E/DSK1 | XS | £869.99 |
| 200/HE8410E/DSK2 | S | £869.99 |
| 200/HE8410E/DSK3 | M | £869.99 |
| 200/HE8410E/DSK4 | L | £869.99 |
| 200/HE8410E/DSK5 | XL | £869.99 |
| SKU | Size | RRP |
| --- | --- | --- |
| 200/HE8410E/DSK1 | XS | £869.99 |
| 200/HE8410E/DSK2 | S | £869.99 |
| 200/HE8410E/DSK3 | M | £869.99 |
| 200/HE8410E/DSK4 | L | £869.99 |
| 200/HE8410E/DSK5 | XL | £869.99 |
| | |
| --- | --- |
| SKU | 200/HE8410E/DSK1 |
| Size | XS |
| Price | - |
| RRP | 869.99 |
| In Stock | |
| | + Add |
| Qty In Order | |
| | |
| SKU | 200/HE8410E/DSK2 |
| Size | S |
| Price | - |
| RRP | 869.99 |
| In Stock | |
| | + Add |
| Qty In Order | |
| | |
| SKU | 200/HE8410E/DSK3 |
| Size | M |
| Price | - |
| RRP | 869.99 |
| In Stock | |
| | + Add |
| Qty In Order | |
| | |
| SKU | 200/HE8410E/DSK4 |
| Size | L |
| Price | - |
| RRP | 869.99 |
| In Stock | |
| | + Add |
| Qty In Order | |
| | |
| SKU | 200/HE8410E/DSK5 |
| Size | XL |
| Price | - |
| RRP | 869.99 |
| In Stock | |
| | + Add |
| Qty In Order | |
| | |